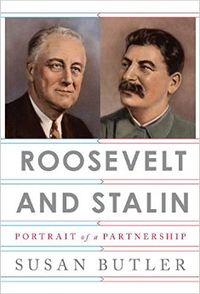 BACK
ROOSEVELT AND STALIN
Portrait of a Partnership
The first book to fully explore the complex partnership during WWII between FDR and Stalin.
Franklin D. Roosevelt and Joseph V. Stalin were more than allies of convenience during the war. They were partners who shared the same outlook for the postwar world and formed an uneasy but deep friendship. Susan Butler's ROOSEVELT AND STALIN The War Years, making use of previously classified materials, reassesses in-depth the relationship of these two world leaders who shaped the world's political stage from the Second World War to the decades leading up to and into the new century.

Butler's illuminating book tells the story of how the leader of the capitalist world and the communist world joined forces to defeat Hitler, and of the real alliance the two men forged; what their modus operandi was, what they knew and thought about each other, and how by the time of Roosevelt's death in April, 1945, both leaders had come to a meeting of minds on a world organization to prevent war, mutually agreeing on the evils of colonialism; that Germany must be dealt with as a future, as well as, present threat that could never again menace civilization--and on their respective goal: to fashion a world without war for at least a generation.

SUSAN BUTLER grew up in New York and received her MA from Columbia University. Her articles have appeared in The New York Times and Barron's. She lives in Lake Wales, Florida.
More like this