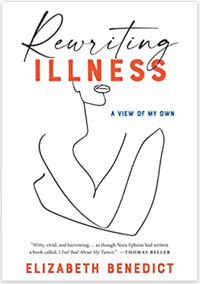 BACK
REWRITING ILLNESS
A View of My Own
By turns somber and funny but above all provocative, Elizabeth Benedict's Rewriting Illness: A View of My Own is a most unconventional memoir. With wisdom, self-effacing wit, and the story-telling skills of a seasoned novelist, she brings to life her cancer diagnosis and committed hypochondria.
As she discovers multiplying lumps in her armpit, she describes her initial terror, interspersed with moments of self-mocking levity as she indulges in "natural remedies," among them chanting Tibetan mantras, drinking shots of wheat grass, and finding medicinal properties in chocolate babka. She tracks the progression of her illness from muddled diagnosis to debilitating treatment as she gathers sustenance from her family and an assortment of urbane, ironic friends, including her fearless "cancer guru."

In brief, explosive chapters with startling titles - "Was it the Krazy Glue?" and "Not Everything Scares Me" - Benedict investigates existential questions: Is there a cancer personality? Can trauma be passed on generationally? Can cancer be stripped of its warlike metaphors? How do doctors' own fears influence their comments to patients? Is there a gendered response to illness? Why isn't illness one of literature's great subjects? And delving into her own history, she wonders if having had children would have changed her life as a writer and hypochondriac. Post diagnosis, Benedict asks, "Which fear is worse: the fear of knowing or the reality of knowing?"

Throughout, Benedict's humor, wisdom, and warmth jacket her fears, which are personal, political, and ultimately global, when the world is pitched into a pandemic. Amid weighty concerns and her all-consuming obsession with illness, her story is filled with suspense, secrets, and even the unexpected solace of silence.

Elizabeth Benedict, whose novels include the national bestseller, Almost, and the National Book Award finalist, Slow Dancing, authored the classic book on writing about sex in fiction, The Joy of Writing Sex, in print for 25 years. Her personal essays have been selected as "Notable" in four editions of Best American Essays. She has written reviews and articles for The New York Times, Boston Globe, Esquire, Real Simple, and Daedalus, and been a regular contributor to Huffington Post and Salmagundi, writing on sexual politics, money, and literature, and on figures from Monica Lewinsky to British psychoanalyst Adam Phillips.
She conceived of and edited three prominent anthologies, including NY Times bestseller, What My Mother Gave Me: 31 Women on the Gifts That Mattered Most. Her books are featured regularly in reviews and interviews on All Things Considered, Fresh Air, and many other public radio shows, including the BBC's "Women's Hour," and Australia Public Radio. A graduate of Barnard College, she has taught creative writing at Princeton, the University of Iowa Writers' Workshop, and Columbia, and is on the Fiction Faculty at the New York State Summer Writers Institute.

Weblink:
elizabethbenedict.com


More like this