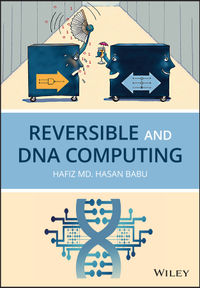 BACK
Reversible and DNA Computing
Master the subjects of reversible computing and DNA computing with this expert volume
Reversible and DNA Computing offers readers new ideas and technologies in the rapidly developing field of reversible computing. World-renowned researcher and author Hafiz Md. Hasan Babu shows readers the fundamental concepts and ideas necessary to understand reversible computing, including reversible circuits, reversible fault tolerant circuits, and reversible DNA circuits.
Reversible and DNA Computing contains a practical approach to understanding energy-efficient DNA computing. In addition to explaining the foundations of reversible circuits, the book covers topics including:
Advanced logic design
An introduction to the fundamentals of reversible computing
Advanced reversible logic synthesis
Reversible fault tolerance
Fundamentals of DNA computing
Reversible DNA logic synthesis
DNA logic design
This book is perfect for undergraduate and graduate students in the physical sciences and engineering, as well as those working in the field of quantum computing. It belongs on the bookshelves of anyone with even a passing interest in nanotechnology, energy-efficient computing, and DNA computing.
More like this