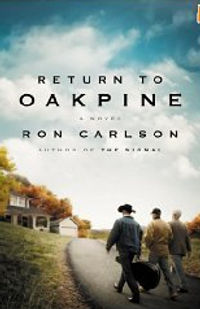 BACK
RETURN TO OAKPINE
From a widely admired author, a poignant novel about homecoming, friendship, growing up, and growing old for fans of Richard Ford and Richard Russo.

Thirty years after high school, thirty years after their short time in a rock and roll band, four men are back in their little western town in a life-changing autumn.
In the fall of 1999, four old friends find themselves together in their small Wyoming home town. Thirty years before they'd been in a band together at Oakpine High School. Jim Brand, a writer, is sick and with no where else to go has returned home to die. Mason Kirby, a successful lawyer at midlife, has returned to fix and sell his parents' old house and in an attempt to break his deep malaise. Craig and Frank have remained in town, but are dealing with life changes this charged fall. A younger generation also full of life and ambition, completes the bittersweet portrait of life in the little town as winter slowly comes across the western plains.

Ron Carlson is the author of five story collections and four novels. He is the director of the writing program at the University of California at Irvine and lives in Huntington Beach, California.
More like this