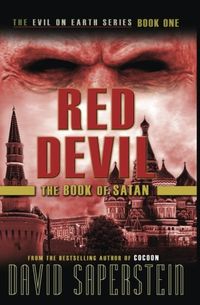 BACK
RED DEVIL
The Book of Satan
RED DEVil is the first book in the exciting new series by David Saperstein: The Evil on Earth.
In "Red Devil," an exciting novel of international intrigue by David Saperstein - author of the best seller, "Cocoon" - Nickolai Valarian stalks the Kremlin halls where Vladimir Putin now resides.

Valarian spins a fiendish Cold War web of deception and brutality to seize control of the entire Soviet Union and beyond, to world domination. Against that diabolical a threat, the Secret Services of the whole fragmented world must work together to try to stop him. "Red Devil" - newly updated and revised.

David Saperstein is the author of Cocoon, a New York Times Bestseller and Academy Award winning film. In addition to the Evil on Earth series (of which Red Devil is Book One), his novels include Metamorphosis: The Cocoon Story Continues and Butterfly: Tomorrow's Children – parts II and III of the Cocoon Trilogy, Fatal Reunion, and he co-authored A Christmas Gift, A Christmas Passage and A Christmas Visitor. David's novel Dark Again was the first full novel available via the Internet.
More like this