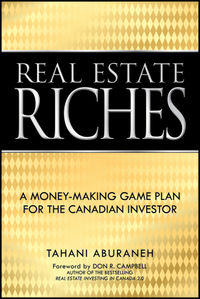 BACK
Real Estate Riches
A Money-Making Game Plan for the Canadian Investor
If there were one advantage that would make a significant impact on the growth of your real estate portfolio, what would that be?
If you are just starting out as a real estate investor, what anxieties or worries might you have? What expertise in particular would help you understand market fundamentals and help you achieve your goal of becoming a successful investor and attaining financial freedom?
If you're an experienced investor, what systems do you have in place to support your growth without making costly mistakes? Have you built up a proper support team?
If you are a successful real estate agent, with experience in residential property, what could you do to enhance that success in both personal and professional growth? Have you thought about how real estate investing can help you and your business?
The answer to these questions lies in a very special kind of relationship—the relationship between the real estate investor and the real estate agent.
Real Estate Riches is designed to provide investors with insights into the skills and services that a knowledgeable agent can provide—one who specializes in meeting the needs of the investor by understanding the investor's mindset, vision, and goals to allow them to focus on the larger aspects of their business. Real Estate Riches is also intended to illustrate to the agent what an investor's business looks like—from the different strategies and types of properties the investor focuses on, to the specifics of investment towns, neighbourhoods and streets, to timelines and cycles for growing the investor's portfolio.
How do you go about finding that agent with the requisite skills? The answer lies within the pages of Real Estate Riches. Filled with real-life case studies, tips, and the hard-won knowledge that comes from experience, the book is motivational, practical, and useful—and it will be among your wisest investments.
More like this