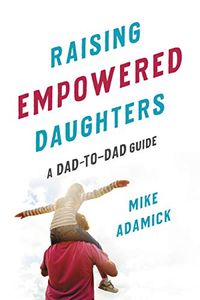 BACK
RAISING EMPOWERED DAUGHTERS
A Dad-to-Dad Guide
Raising Empowered Daughters is a fists-up handbook for helping dads help their daughters resist the patriarchy, written by a popular feminist dad blogger. Stay-at-home dad and journalist Mike Adamick jumps into the feminist-parenting fray with a book designed to help dads understand the dynamics behind sexist micro-messages our daughters experience every day, so they can combat them in daily life.
Addressing a wide range of challenges facing dads who want to raise empowered girls, Raising Empowered Daughters covers all the angles and issues dads need to know so they can better understand society's subtle silencing of girls, and their own role in the gender imbalance that kids all experience.

Taking readers into the home, the schools, and through the public influences of pop culture and media, Adamick shows dads exactly where their daughters are being undermined by male-dominated traditions and standards. Armed with this awareness, he gives dads practical actions they can take to infuse their daughters with the confidence and role models they need to avoid the traps of patriarchy.

Mike Adamick is author of the bestselling family craft series: Dad's Book of Awesome Projects, Dad's Book of Awesome Science Experiments, and Dad's Book of Awesome Recipes. Adamick has written for and been featured in The New York Times, NPR, CBS Morning Show, Science Friday, PBS, Life of Dad, City Dads, and more. He has been a keynote speaker for the BlogHer and Dad 2.0 conferences, and he penned the "Daddy Issues" column for Jezebel.com. He is a stay-at-home dad to Emme.
More like this