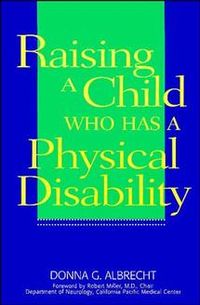 BACK
Raising a Child Who Has a Physical Disability
Parenting a child who has a physical disability can be complicated. This book will make your job easier. Compassionate, helpful, and based on real-life experience, it will help you handle every facet of raising and loving your special child, including:
* Finding the right physical and mental health professionals
* Solving stressful situations within the family
* Boosting your child's confidence and self-esteem
* Developing a proper support team you can trust
* Dealing with hospitalizations and emergencies
* Handling medical equipment at home
* Managing medications, special diets, and hygiene needs
* Getting a reluctant school district to meet your child's educational needs
* Selecting a guardian or arranging for long-term custodial care


You'll also find information about school placement options, the Individualized Education Program (IEP) and lists of medical specialists, organizations, and government programs that offer help for children with physical needs.
More like this