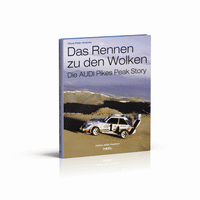 BACK
RACE TO THE CLOUDS THE AUDI PIKES PEAK STORY
● 160 pages ● approx. 200 mostly col. photographs ● word count: 43,300 ● hardcover with jacket ● trim size 245 x 290 mm ● retail price: € 39,95
The famous Pikes Peak International Hill Climb (PPIHC), also known as "Race to the Clouds", has fascinated motorsport enthusiasts since its introduction in 1916. It was held to promote the newly built road up to Pikes Peak, Colorado, with a summit at 4.300 metres (14.110 feet). It takes place annually ever since, and with a distance of nearly 20 kilometresover 156 turns, climbing 1.439 meters on grades averaging 7% it is one of the most challenging hill climbs in the world.
Among the car manufacturers that provided cars or even especially designed them for this occasion Audi was one of the most successful brands. Audi entered the competition 25 years ago and this new title - produced in close cooperation with Audi Tradition - depicts the complete story of Audi's engagement at Pikes Peak. Walter Röhrl was the first driver in 1987 to clock a time of less than 11 minutes racing an Audi Quattro S1.
Thrilling photo material from the Audi archives along with competent background information by Audi expert Claus-Peter Andorka
enables the reader to engage in this
exciting adventure!
More like this