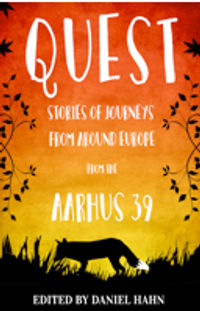 BACK
QUEST
Stories of Journey from around Europe from the Aarhus 39
QUEST is one of two anthologies that Alma Books and Hay Festival have launched, comprising original stories from the Aarhus 39, the result of an ambitious pan-European project with European Capital of Culture Aarhus 2017 showcasing 39 of the best children and YA writers aged 39 and under across Europe.
QUEST, a volume of 17 stories aimed at children, will whisk you away from dark bedrooms to new dimensions and fantasy realms, via the Russian countryside and modern Rome. You'll encounter talking field mice, invisible friends, flying kraiks, white elephants, runaway books and wardrobes that act as magic portals. Hopping across all sorts of genres and showcasing authors from all over Europe – from the Basque country and Cyprus to Iceland and the Czech Republic – this book is certain to broaden horizons and engage the reader in all kinds of fun.

Authors: Katherine Rundell, Anna Woltz, Aline Sax, Laura Dockrill, Ludovic Flamant, Nataly Savina, Maria Parr, Ævar ?ór Benediktsson, Alaine Agirre Garmendia, David Machado, Jana ?rámková, Dy Plambeck, Antri Antoniou, Maria Turtschaninoff, Stefan Bachmann, Katherine Woodfine, Annelise Heurtier.

Illustrators: Adam Stower, Axel Scheffer, Benji Davies, Chris Riddell, Ian Beck, Joel Stewart, Neal Layton, Ross Collins, Tony Ross, Anna Höglund, Barbara Nascimbeni, Cato Thau-Jensen, Charlotte Pardi, Kamila Slocinska, Lilian Brøgger, Moni Port, Philip Waechter.
More like this