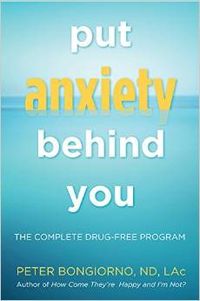 BACK
PUT ANXIETY BEHIND YOU
The Complete Drug-Free Program
Dr. Bongiorno recounts his own battle with anxiety and throughout the book shares his own experiences to help readers realize that anxiety can be an inspiration and helps move us forward to a happier, calm life.
Everyone is affected by anxiety, whether their own or that of an anxious loved one, colleague, boss, or friend. According to the NIMH, nearly 20% of all American adults (40 million) experience an anxiety disorder in any given year--including panic disorder, generalized anxiety disorder, obsessive-compulsive disorder, post-traumatic stress disorder, and related phobias. In Put Anxiety Behind You, naturopathic doctor and licensed acupuncturist Peter Bongiorno offers a holistic approach for healing from these disorders and avoiding relapse.

In a warm and compassionate tone, this book addresses causes, provides perspective, and offers natural remedies that work quickly and without any nasty side effects. Readers will learn about the many possible underlying causes for their anxiety--biochemical, physical, situational, spiritual, etc.--and will find suggestions for non-pharmaceutical remedies including specific nutrients, plant-based medicines, yoga poses, massage techniques, exercises, and acupuncture/acupressure points to try on their own for lasting relief. Bongiorno also tackles how to safely wean from anti-anxiety medication and how to supplement conventional medications with herbal and other natural remedies to increase efficacy and reduce side effects.

Dr. Peter Bongiorno is a naturopath and acupuncturist with offices in NYC and Long Island. He is licensed as an acupuncturist in the State of New York and as a naturopathic doctor in the State of Washington. He is an adjunct faculty member at NYU, where he teaches classes on holistic healing. He also writes for PsychologyToday, DrOz.com, and Sharecare.com. Visit him at innersourcehealth.com.

Weblink:
innersourcehealth.com


More like this