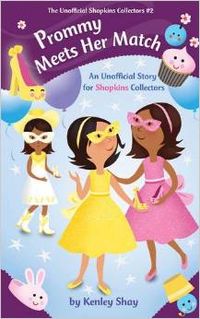 BACK
PROMMY MEETS HER MATCH
An Unofficial Story for Shopkins Collectors
Meet the Shopkins Kids Club, six friends who get together every week to trade and play with their favorite characters, collecting their own adventures along the way.
Identical twins Ava and Bella look alike, and they often dress alike, too. But when the Shopkins Kids Club agrees to go to a costume party dressed as Shopkins characters, the two sisters disagree about what to wear. Ava wants to go in matching "prom" dresses inspired by Prommy—one sister in pink, and one in yellow. But Bella wants to wear a costume inspired by Betty Boot. Boots are more Bella's style, especially since she dreams of taking horseback riding lessons one day.

Bella doesn't want to disappoint her sister, so her friends help her come up with a clever plan. Gabby will wear the yellow prom dress that matches Ava's. And Bella can wear a cowgirl costume. If all the girls wear masks, they might even be able to pull this off without Ava finding out!

But sneaking around is an awful lot of work. Can Bella find the courage to stop hiding and express her own style?

Finding your own voice and friendship take center stage in the second Unofficial Shopkins Collectors story. You'll want to collect the whole series!

Kenley Shay grew up close to the Mall of America, one of the biggest shopping malls in the world! As a child, she collected books and baby dolls—and tried to keep them out of the hands of her little brother, Max. Her favorite Shopkin to collect is the mint green Yummy Gum.
More like this