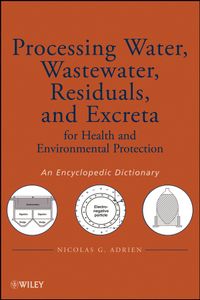 BACK
Processing Water, Wastewater, Residuals, and Excreta for Health and Environmental Protection
An Encyclopedic Dictionary
This single-source reference is your "go-to" resource for current information on water treatment and water quality
Knowledge about water and wastewater treatment, pollution control, water quality, and related applications and equipment is increasing exponentially. New challenges bring new technologiesand terminologies. The acronyms alone can test your memory, not to mention the plethora of proprietary devices and technologies created by different companies.
Processing Water, Wastewater, Residuals, and Excreta for Health and Environmental Protection: An Encyclopedic Dictionary
consolidates concise definitions, equations, and formulas into one authoritative reference. With logical, systematic organization and clear, concise explanations, it:
Defines more than 25,000 key terms related to water treatment, wastewater treatment, excreta disposal, residuals processing, and environmental health
Features 1,800 illustrations, including chemical reactions, formulas, figures, and tables
Updates you on current technologies and applications
Covers both proprietary and nonproprietary technologies
This is the hands-on reference for professionals teaching, conducting research, or working in hydraulics, hydrology, water supply, wastewater disposal, stormwater management, environmental engineering, and civil engineering. It is also an excellent resource for students studying water resources and environmental engineering.
More like this