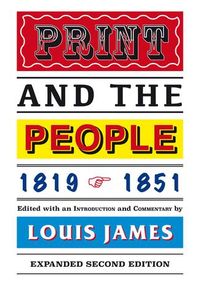 BACK
Print and the People 1819-1851
This work offers a wonderfully illustrated guide – and a rigorous analysis - of popular print and literature in all its many forms in the first half of the 19th century.
It provides a unique collection of illustrated popular literature published between the events of 'Peterloo' in 1819 and the Great Exhibition of 1851, much never reprinted before. This was a time when the expansive growth of literacy led to the rapid and diverse evolution of popular culture, of publishing and print. This did much to transform the life experiences of millions. The printing press, combined with the railways and the telegraph, was a key agent of mass change.
Louis James gives a picture of what the working classes were reading and a fascinating insight into their interest and concerns – their sports, work, crime, politics, religion and entertainments. His detailed introduction places all of this in its context of the contemporary cultural and social movements.
The book profusely illustrates the fare which was offered: woodcut pictures, broadsheets and ballads, sensational Gothic novels issued in parts, newspapers and magazines, melodramatic penny dreadfuls published weekly in parts, and tracts of all kinds.
The work examines this material in its many aspects, and from both sides of the social mirror. As well as showing the material, and analysing its significance, the book deals with official attempts to damp down or suppress the revolutionary new political and cultural press which served the new literacy. This did much to change taste, and ways of thinking and feeling. The book brings thus not only brings together a great deal of unusual and otherwise inaccessible illustration, it also offers a multi-facetted discussion of how the material was received, and its longer-term cultural influences.
The new edition also includes a survey of studies in popular culture including song (A.L. Lloyd); the popular arts (Barbara Jones, Marx and Lambert, Panofsky, Gombrich); cartoons and graphic satire (Meisel, Maidment); the conventions and influence of popular melodrama and woodcuts, and a case study of the fiction of G.W.M. Reynolds. Also, a list of relevant web sites.
More like this