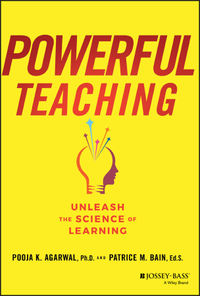 BACK
Powerful Teaching
Unleash the Science of Learning
Powerful Teaching, written by a noted cognitive scientist and a veteran classroom teacher, offers evidence-based recommendations that can be implemented in less than a minute without additional prep time or grading. Decades of research demonstrate that these few powerful—yet intuitive—strategies dramatically raise student achievement.
Readers will learn how to harness four dynamic "Power Tools":
Retrieval Practice: Boost learning by pulling information out of students' heads, rather than focusing on getting information into students' heads
Spaced Practice: Boost learning by spreading lessons and retrieval opportunities out over time so learning isn't crammed all at once
Interleaving: Boost learning by mixing up closely related topics and encouraging students to discriminate between key concepts
Feedback-Driven Metacognition: Boost learning by providing students with the opportunity to know what they know and know what they don't know
Powerful Teaching provides the rare opportunity to adapt the science of learning for diverse students, parents, and professional development programs. With this interactive guide, think critically about teaching from a research-based perspective and transform learning in your classroom.
More like this