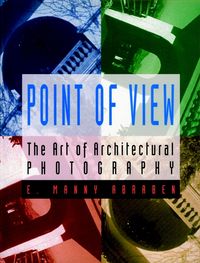 BACK
Point of View
The Art of Architectural Photography
Point of View The Art of Architectural Photography E. "Manny" Abraben, AIA, RIBA The photographing of buildings demands technical skills, a fundamental understanding of the intent of a building design, and an awareness of how the building fits into its surroundings. These keys to superb architectural photography are explored here. Synthesizing theory and practice, Point of View brings creative stimulation to the shooting of buildings with 35mm—and medium—format cameras. This guide combines step-by-step techniques and advice on equipment with a spectacular portrait gallery of architecture. Hundreds of photographs—including more than 75 in color—serve as inspiration as well as illustrate the text. Buildings on display run the gamut from Philip Johnson's home to the Miami skyline. Readers will see the dramatic effects that can be achieved photographing subjects from historical buildings to contemporary designs and from single buildings to vast complexes. Commentary and diagrams clarify the artistic and technical skills involved in photographing different building types. Point of View offers valuable guidance on how to:
Develop a method for understanding architectural subjects
Use the surrounding landscape to enhance a picture
Match the composition of the picture with the building type and setting
Utilize the architect's plans to create a storyboard
Display finished works and prepare a portfolio
Submit work for magazine publication
Detailed advice is provided on setting up shots, complete with technical information on cameras, lenses, film, lighting, and filters. Also discussed are how to exploit the latest techniques of computer-aided design [CAD], electronic imaging, instant photography, and image transfer. Point of View also explains the basics of understanding perspective, in addition to clarifying the relationship between photography and illustrations. A review of the history of architectural photography is included. Everyone who wants to develop the technical skills and vision necessary to capture perfect architectural images will benefit from Point of View. It will be an inspiring as well as informative reference for architects, photographers, designers, historians, and educators.
More like this