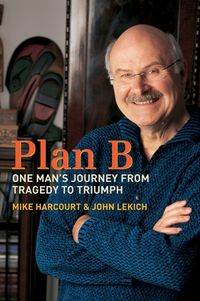 BACK
Plan B
One Man's Journey from Tragedy to Triumph
On November 30, 2002, former BC premier Mike Harcourt slipped off the rail-less deck of his Pender Island cottage while carrying two buckets of water to top off the hot tub. Pitched forward by the weight of the full buckets, he tumbled down the rocky slope of a six-metre cliff and landed face down in the ocean, deep in shock and barely alive. The series of events that followed permanently altered Mike Harcourt's life, setting the stage for a remarkable comeback.
Plan B is the inspirational story of Harcourt's fight to recover from this near-fatal accident that doctors initially thought could leave him permanently confined to a wheelchair. His personal story shares the intimate details of his accident, and reveals his relentless optimism in the face of enormous physical and emotional challenges. Today, Mike Harcourt walks without the aid of support, has resumed driving a car, and remains fully engaged in the projects that matter to him. His pragmatic gifts for problem solving and goal setting have much to teach all of us about turning our lives around, even in the most awful circumstances.
Mike Harcourt's story has already touched thousands of people and has motivated many to look for ways of being positive without being superficial, to find choices and the courage to make them instead of feeling stuck, and to transform their nightmare into a dream. Full of hope and inspiration, Plan B shows how anyone can rise above life's serious and unexpected challenges, through one man's powerful personal story.
Harcourt's accident and subsequent rehabilitation and recovery have connected him with disability issues, sustainable cities, and the wonder of his natural surroundings in a profound and deeply personal way. Readers will marvel at how this self-confessed "recovering politician" has reshaped his career to become an international figure in such areas as environmental issues, aboriginal rights, the 2010 Vancouver Olympics, and the preservation of North America's wilderness.
More like this