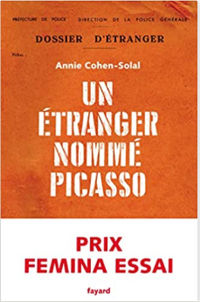 BACK
PICASSO
A major reaximation of the life of one of the world's most celebrated artists.
Annie Cohen Solal's Picasso reexamines the life of one of the world's most famous and celebrated artists, Pablo Picasso. Solal
explores Picasso's debut onto the French art scene through an often forgotten lens: his identity as a "foreigner". Although Picasso spent the majority of his adult life in France, from 1900 to 1973, Solal argues that his work was largely influenced by the political and social context of his ever-persisting outsider identity. Picasso presents a study of the artist's life, separated into periods of artistic, geographic, political, and personal exile.

Annie Cohen-Solal is an academic and writer. For ever, she has been tracking down interactions between art, literature and society with an intercultural twist. After Sartre: A Life (1987) became an international success, she became French cultural counselor in the US, where she held her position from 1989 to 1992.

She is working on curating exhibitions for the Rijks Museum in Amsterdam, the Musée Picasso and the Musée de l'Immigration in Paris. She will soon lead, alongside Jeremy Adelman, the "Crossing Boundaries" workshop at the CASBS (Stanford University). Born in Algiers, Annie now lives between Paris and Cortona.
More like this