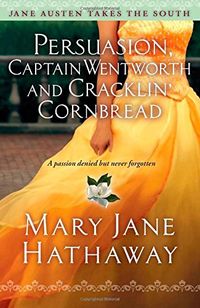 BACK
PERSUASION, CAPTAIN WENTWORTH AND CRACKLIN' CORNBREAD
A lively Southern retelling of Jane Austen's Persuasion, featuring Lucy Crawford, who is thrown back into the path of her first love while on a quest to save her beloved family home.
Lucy Crawford is part of a wealthy, well-respected Southern family with a long local history. But since Lucy's mother passed away, the family home, a gorgeous antebellum mansion, has fallen into disrepair and the depth of her father's debts is only starting to be understood. Selling the family home may be the only option—until her Aunt Olympia floats the idea of using Crawford house to hold the local free medical clinic, which has just lost its space. As if turning the plantation home into a clinic isn't bad enough, Lucy is shocked and dismayed to see that the doctor who will be manning the clinic is none other than Jeremiah Chevy—her first love.

Lucy and Jeremiah were high school sweethearts, but Jeremiah was from the wrong side of the tracks. His family was redneck and proud, and Lucy was persuaded to dump him. He eventually left town on a scholarship, and now, ten years later, he's returned as part of the rural physician program. And suddenly, their paths cross once again. While Lucy's family still sees Jeremiah as trash, she sees something else in him—as do several of the other eligible ladies in town. Will he be able to forgive the past? Can she be persuaded to give love a chance this time around?

Mary Jane Hathaway is the pen name of an award-nominated inspirational fiction writer who spends the majority of her literary energy on subjects un-related to Jane Austen. A homeschooling mother of six young children who rarely wear shoes, she's madly in love with a man who has never read Pride and Prejudice. She holds degrees in religious studies and theoretical linguistics, and has a Jane Austen quote on the back of her van. She can be reached on facebook at Pride, Prejudice and Cheese Grits or her regular author page of Virginia Carmichael.
More like this