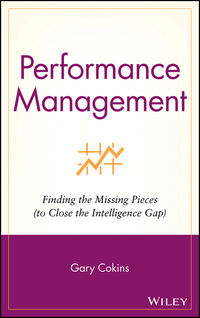 BACK
Performance Management
Finding the Missing Pieces (to Close the Intelligence Gap)
Performance Management (PM) is the process of managing an organization's strategy through a fully integrated system of business improvement methodologies supported by technology. PM encompasses the methodologies, metrics, processes, software tools, and systems that manage the performance of an organization. Written by a leading thinker and pioneer in cost and performance management, Performance Management shows corporations how to implement PM tools–or refine the ones they already have–to make better executive and operational decisions that will achieve greater results.
Describing the full vision of PM and how to reap the most benefits from it, Performance Management shows organizations how to use PM tools that have existed for decades or have become recently popular–such as balanced scorecards, Six Sigma, and activity-based management–to collect data, transform and model the data into information, and Web-report it to users. Author Gary Cokins exposes PM as not just an integrated set of improvement methodologies but also as a discipline intended to maintain a view of the larger picture and to understand how an organization works as a whole. PM can be successfully applied to managing any organization, including businesses, hospitals, universities, government agencies, military bodies, and every other entity that has employees and partners with a purpose.
In Performance Management, CEOs, CFOs, vice presidents, and managers discover:
How to refine aspects of existing PM systems to work in harmony with newer components and apply "what-if" scenario modeling to them
The explicit linkage between strategic, operational, and financial objectives, and how to communicate these linkages to managers and employee teams
How to measure the profitability of customers and apply this knowledge to marketing strategies and campaigns
How time, service level, cost, quality, and flexibility all interrelate with trade-offs
How to align employee behavior to strategic objectives and motivate employees to accept strategy as everyone's job
How to test and validate the goals set by senior management
Performance Management shows senior managers how to use tools already in their grasp to navigate their organizations to the top of their game through better guidance, feedback, and decision-making.
More like this