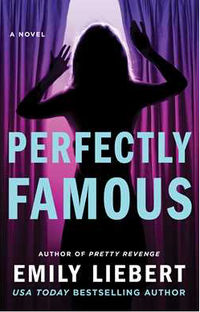 BACK
PERFECTLY FAMOUS
In this story of obsession from the author of the "irresistible page turner" (Kimberly Belle) Pretty Revenge, a desperate fan is determined to find the author who disappeared after her daughter's death.
Ward DeFleur is a woman who has it all. A bestselling author whose fans adore her, the only thing that makes her happier than writing is her beloved daughter and only child, Stevie. So when Stevie is brutally attacked on her way to a friend's house--losing her life as a result--Ward's entire world shatters. Grieving, lost, and feeling completely alone, Ward vows never to put pen to paper again.

Enter Bree Bennett.

Bree, a recent divorcee and dedicated housewife, needs to fill her days with things other than pilates classes and shopping. So as a former journalist, she decides to join the local newspaper, The Fairfield Chronicle. And it is a local story catches her eye: the recent tragedy of Ward DeFleur, who just so happens to be one of her favorite authors. Determined to make her mark, Bree decides to begin a series on Ward, writing about her past, her loss, and what life looks for her now. But the deeper Bree gets in her research, the more invested she gets in Ward's life. And the more obsessed she becomes.

In this harrowing thrill ride from USA Today bestselling author Emily Liebert, discover just how far one women will go in PERFECTLY FAMOUS.

In 2012, Emily wrote her debut novel, You Knew Me When, which published on September 3, 2013. Her second novel, When We Fall, published on September 2, 2014. Those Secrets We Keep, her third novel, released on June 2, 2015, and her fourth novel, Some Women, came out on April 5, 2016, all with Penguin Random House. She's also the Travel/Books Editor for Westport Magazine and host of a monthly book segment on 95.9 The Fox, a popular radio station in Fairfield County .
Emily is featured often in the press, by outlets such as: Today Show, The Rachael Ray Show, Anderson Cooper, FOX News, Good Day New York, Oprah Radio, Martha Stewart Radio, The New York Times, The Wall Street Journal, InStyle, People StyleWatch, OK!, Nylon, Ladies' Home Journal, Woman's World, WWD, Woman's Day, The New York Post, The Washington Post, The New York Daily News, The Chicago Tribune, Boston Herald, People.com, and The Huffington Post.
When Emily's not writing, she enjoys Pure Barre, traveling, and cooking. She's been known to ride on a Harley Davidson. And she does a mean Running Man on the dance floor. Emily lives with her husband, Lewis, and their sons, Jax and Hugo, in Westport, CT where she moved kicking and screaming for fear that there would be no Chinese food delivery at three in the morning. She was right.
More like this