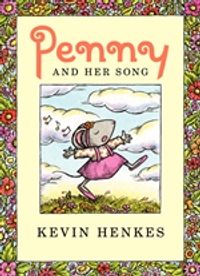 BACK
PENNY AND HER SONG
Written and illustrated by one of the most beloved children's book authors.
When Penny comes home from school, she is ready to sing her song. But the babies are sleeping, and Mama and Papa are worried that Penny will wake them up. Oh, but it is a good song, a really wonderful song... and Penny wants more than anything to sing it.
What do you think will happen?

Kevin Henkes is the author and illustrator of many books for children of all ages—among them are Lilly's Purple Plastic Purse, Chrysanthemum, and Wemberly Worried. He was awarded the Caldecott Medal for Kitten's First Full Moon, a Caldecott Honor for Owen, and a Newbery Honor for Olive's Ocean. He lives with his family in Madison, Wisconsin.

Weblink:
http://www.kevinhenkes.com/


More like this