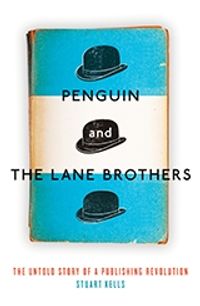 BACK
PENGUIN AND THE LANE BROTHERS
The Untold Story of a Publishing Revolution
A ground-breaking and amusing counter-history of Penguin Books.

How did the three Lane brothers enter publishing and build Penguin into a global publishing powerhouse? Innovation and creative opposition among them provided Penguin's secret weapon. The Lane boys did their best thinking together in bathroom board-meetings where at least one director would always be 'mother naked'.

The war, though, brought tragedy for the family. John Lane's 1942 death in action during the North African landings shattered the brothers' intimate partnership.

Richard Lane went on to share with his brother Allen the leadership of one of the first global media businesses. The Lanes built a firm and a brand that became synonymous not only with paperbacks but with a certain kind of publishing – switched-on, progressive, engaging. With its low price mass-distribution model, Penguin became a vast 'poor man's university' and a prototype internet made from paper and ink.

Richard Lane come to Australia when a young man, and later helped establish and lead Penguin Australia, which was so successful that it enabled its UK parent to stave off bankruptcy in the 1960s and 1970s.

With unprecedented access to Lane family sources, including Richard's diaries and other papers, Stuart Kells' book sheds new light on the relationship between Richard and John Lane, so crucial as a driver and influencer of Penguin's spirit and success. It restores Richard to his rightful place in the story.

Agatha Christie, Thomas Hardy, Bernard Shaw, Arthur Conan Doyle and Graham Greene are some literary figures who appear in the book and add another rich layer to what is a fascinating story of an unlikely publishing triumph.

Author Stuart Kells specialises in biographies of people from the world of books. He recently wrote a biography of antiquarian bookseller Kay Craddock. Stuart also recently published three volumes of biographical portraits of Australian book collectors, and co-published Colin Franklin's memoir, Obsessions and Confessions of a Book Life.
More like this