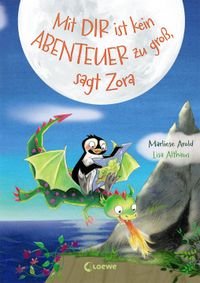 BACK
Penguin and Dragon – A Dream Team on Exciting Missions (Vol.1 – 2)
Friends stick together!
• Story Time with Penguin and Dragon!
• Warm, imaginative writing style
• Perfect for reading aloud
• Best friends stick together – an unusual friendship
• Heart-warming and lovable characters
Anton is a little talking penguin who absolutely loves fish. Zora is a little dragon with a penchant for spicy pepperoni pizza. Anton and Zora are best friends and stick together through thick and thin. Together they have adventures full of dragon fire, friendship and magic!
* I'd Fly to the End of the Earth for You, says Anton (Vol.1), no. 8367
* With You no Adventure is too Big, says Zora (Vol.2), no. 8404
More like this