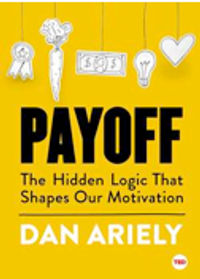 BACK
PAYOFF
The Hidden Logic that Shapes our Motivations
Bestselling author Dan Ariely reveals fascinating new insights into motivation—showing that the subject is far more complex than we ever imagined.
We all work hard to motivate ourselves. But we also try to motivate the people working for us, and the people working with us. From the rational economic point of view motivation is based on a very simple tradeoff: We need and want stuff, and we work to get these things. But the story of our motivation is much more intricate and fascinating. This TED Book is about the true nature of motivation, our partial blindness to it in relation to money, and a journey to try and bridge this gap.

Dan Ariely is the James B. Duke Professor of Psychology and Behavioral Economics at Duke University. His writings have been featured in a variety of media including The New York Times, Wall Street Journal, Washington Post, Boston Globe, Business 2.0, Scientific American, and Science. He is the author of the bestsellers PREDICTABLY IRRATIONAL, THE UPSIDE OF IRRATIONALITY, and THE HONEST TRUTH ABOUT DISHONESTY. Through his research and his (often amusing and unorthodox) experiments, he questions the forces that influence human behavior and the irrational ways in which we often all behave.

Dan Arielly's 2015 TED talk "How Equal Do We Want The World To Be? You'd Be Surprised " has 1,419,034 total views and is translated into 32 languages.
More like this