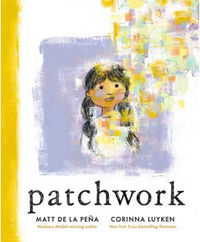 BACK
PATCHWORK
PATCHWORK is a deeply moving ode to the complexity and uniqueness of every child, from Newbery Medal-winning author Matt de la Peña, with art by New York Times bestselling creator Corinna Luyken
You are more than a single note played again and again.
You are a symphony.
. . .
You are blues and pinks and loneliness and laughter,
mismatched scraps accumulated over time
and stitched together
into a kind of patchwork.

In profound, uplifting verse and sumptuous artwork, beloved creators Matt de la Peña and Corinna Luyken explore the endless possibilities each child contains: A young dancer may grow into a computer coder; a basketball player might become a poet; a class clown may one day serve as an inspiring teacher; and today's quiet empath might be tomorrow's great leader. Destined to become a new classic, this book is a powerful reminder that no one is defined by just one thing and a heartfelt tribute to the threads of love, empathy, and kindness that connect us to one another.

Matt de la Peña is the author of the Newbery Medal-winning Last Stop on Market Street, Milo Imagines the World, Carmela Full of Wishes, Love, and A Nation's Hope: The Story of Boxing Legend Joe Louis, as well as a number of critically acclaimed young adult novels. You can visit Matt at mattdelapena.com or follow him on Twitter and Instagram @mattdelapena.

Corinna Luyken is the author-illustrator of the New York Times bestseller My Heart, The Tree In Me, and The Book of Mistakes. She is also the illustrator of Adrian Simcox Does Not Have a Horse, Nothing in Common, and Something Good. You can visit Corinna at corinnaluyken.com or follow her on Twitter and Instagram @corinnaluyken.
More like this