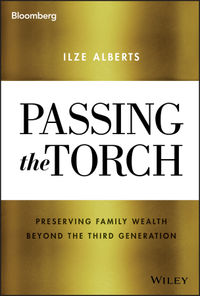 BACK
Passing the Torch
Preserving Family Wealth Beyond the Third Generation
In Passing the Torch, author Ilze Alberts shares her professional wisdom as a wealth psychologist for helping a family's capital sustain throughout the generations. In this book, she presents the fundamentals of psychological mindedness and the awareness of positive psychology's developmental practices and assessments. The book offers first-generation wealth creators the information needed to create a culture of sustainability and growth and endow subsequent generations with the tools and ideas necessary to prosper.
Passing the Torch reveals that the biggest investment you can make is not only in the smartest financial assets but also in the human capital of your family. By living a life of prosperity, meaning, purpose, inspiration, and power, it is possible to chart a course for your family to flourish for seven generations and beyond.
More than a simple guide to financial management, this book shows how to unlock wealth in all areas of your life including spiritual vision and mission, mental wisdom, vocational fulfillment, family connections, social empowerment, and physical health and vitality. The author helps to identify your burning desires and have certainty about your most cherished dreams and goals.
The book also provides guidance for outlining practical action steps that are an authentic expression and fulfillment of your vision for your life. You will see how your vision and life purpose serve your family as a whole. The author also encourages lifelong learning to ensure your own empowerment and mastery.
This is your important guide to generational wealth that also informs subsequent generations to learn how to receive the torch, sustain and grow the family's capital, and pass the torch to the next generation.
More like this