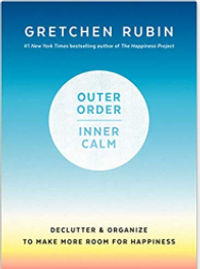 BACK
OUTER ORDER, INNER CALM
Declutter and Organize to Make More Room for Happiness
International bestselling author of THE HAPPINESS PROJECT explores one of her key realizations: that ordering our surroundings can quell our inner turmoil. And perhaps more important, Rubin gives us a map so we can find our way to this most sought after destination.
A crowded coat closet or an overflowing inbox may be trivial, but they weigh us down more than they should. Getting control of the stuff of life makes us feel more in control of our lives generally. If it's an illusion, it's a helpful one that helps us go from feeling restless and unsettled to energetic, creative and centered. Plus, we know where our keys are!
We free our minds (and shelves) for what we truly value, but creating a serene and orderly environment requires us to make choices... and making choices is hard. It takes intellectual and emotional energy. Gretchen makes the process much easier (even fun!), by putting forward simple yet effective and unique strategies to achieve inner calm: Making choices, Creating order, Adding Beauty, Create a secret place.
With OUTER ORDER, INNER CALM, we can live happier, healthier, more productive, more creativeand yes, more calm lives.
Gretchen Rubin is one of the most thought-provoking and influential writers on the linked subjects of habits, happiness, and human nature. She's the author of many books, including the New York Times bestsellers, The Four Tendencies, Better Than Before and The Happiness Project. Her books have sold more than two million copies worldwide, in more than 35 languages. A member of Oprah's Super Soul 100, she also has an award-winning podcast, Happier with Gretchen Rubin, and a popular daily blog, gretchenrubin.com. She lives in New York City with her husband and two daughters.

Weblink:
https://gretchenrubin.com/


More like this