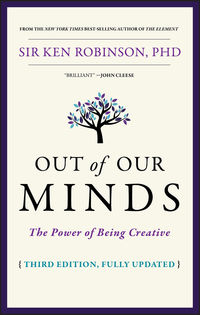 BACK
Out of Our Minds
The Power of Being Creative
YOU'RE CREATIVE. GET READY TO FIND OUT HOW.
Many of us leave school or university with no real idea of our creative abilities and strengths. So how can we unlock those long-lost or undiscovered talents?
RECLAIM YOUR CREATIVITY. STARTING NOW.
With expert guidance from Sir Ken Robinson, you'll find out why creativity matters so much, why you think you lack it and what you can do about it – starting today. Out of Our Minds addresses three vital questions:
Why is it essential to cultivate creativity in education, work and life?
Why do so many people think they're not creative?
What can be done about it?
Young children are buzzing with ideas, but what happens when we grow up to make us think we're not creative? Out of Our Minds answers that question and shows you how to restore and refresh yours.
More like this