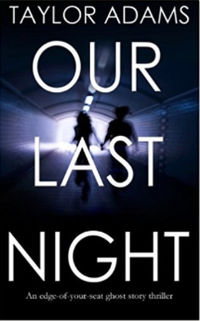 BACK
OUR LAST NIGHT
Dan Rupley has 24 hours to survive a cursed killer gun and get his dead fiancée back. What could go wrong?
An epic edge-of-your-seat ghost story that you won't want to put down .
Dan is a professional ghost hunter who's never actually found a ghost. But his newest case is promising: a cursed Russian rifle allegedly haunted by a demon. Anyone who touches the antique weapon dies within 24 hours. But for Dan, it's personal he's still mourning the death of his fiancée Adelaide, and he's desperate to find proof that ghosts exist. At any cost.

As the clock ticks down, Dan's paranormal investigation quickly twists into a mind-bending nightmare. He is chased through time and memory by a terrifying demon. And as for his lost love, Adelaide? She might be the only one who can save him . . .

From Amazon best-selling author Taylor Adams, OUR LAST NIGHT is a roller coaster of a ghost story full of excitement, emotion, and some black humour.

Taylor Adams, the director of the acclaimed short film And I Feel Fine, graduated from Eastern Washington University with the Excellence in Screenwriting Award and the prestigious Edmund G. Yarwood Award. His directorial work has screened at the Seattle True Independent Film Festival, and his writing has been featured on KAYU-TV's Fox Life blog.
More like this