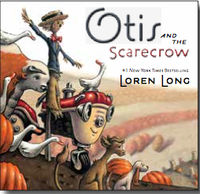 BACK
OTIS AND THE SCARECROW
A deeply resonant book about friendship starring everyone's favorite tractor.
On the farm where Otis the tractor lives, the farmer has introduced someone new— a grumpy scarecrow to shoo away the pesky crows. Otis and the animals greet the scare- crow with friendly smiles, yet the scarecrow's frown never leaves his face as he stares glumly into the cornfield. So everyone leaves him alone.

One day, when a cold autumn rain sets in, Otis and the animals snuggle close and play Otis's favorite game: the quiet game. Otis knows the puppy and ducks can't sit still for long, and soon the farm friends begin to giggle and squirm, feeling warmed by each other's friend- ship . . . but today Otis can't seem to take his eyes off of the lonely figure in the cornfield. So he makes a decision.

A deeply resonant book about subtle acts of kindness, Otis and the Scarecrow is the perfect book to explore themes of compassion and bullying. With its warm autumn colors and vibrant storytelling, here is a book for Hallow- een displays and beyond.

Loren Long is a Midwesterner, having grown up in Missouri and attended school at the University of Kentucky in Lexington. He is the illustrator of such bestsellers as The Little Engine That Could and Of Thee I Sing, the latter by President Barack Obama.
More like this