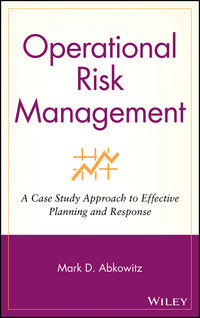 BACK
Operational Risk Management
A Case Study Approach to Effective Planning and Response
Operational Risk Management
In the world we live in today, disasters occur on a daily basis. Could they have been prevented from occurring? If emergency response had been more effective, how much less destruction might they have caused? Will similar disasters happen again? Operational Risk Management: A Case Study Approach to Effective Planning and Response examines the safety and security of an organization's people, facilities, and assets, as well as the communities in which they are located, from exposure to natural disasters, man-made accidents, and terrorist acts that have occurred worldwide, revealing the underlying causes of these catastrophic events.
Through the use of carefully selected case studies in a variety of scenarios across many different industries and environments, both in the United States and abroad, author and industry expert Mark Abkowitz uses historical events to demonstrate how operational risk management practices—or the lack of them—influence event likelihood and outcomes across all hazard domains. Each case contains a narrative, followed by a discussion that draws conclusions as to why things went wrong, as well as what, if anything, has been done to prevent such an occurrence from happening again. These include:
Hyatt Regency Walkway Collapse

Nightmare in Bhopal

Meltdown at Chernobyl

Attack on the USS Cole

September 11 – The World Trade Center

London Transit Bombings

Eruption of Mount St. Helens

Hurricane Katrina
In reviewing painful experiences of the past, it is clear that protecting our future cannot be left to chance. Operational Risk Management: A Case Study Approach to Effective Planning and Response not only looks at the risk factors present in previous disasters but also at the valuable lessons learned. These factors and lessons are used to forge a path forward that risk managers can use to ensure that their organizations have strong safety and security plans in place–and are ready to respond when necessary.
More like this