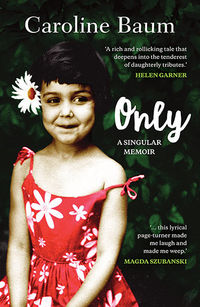 BACK
ONLY
A singular memoir
Caroline Baum's fascinating and moving memoir about being an only child in a very unusual family.
Three barely felt like a family. It felt like it did not count. Like we were unfinished. Incomplete. There was always a gap at the table, room to set places for others. Visitors were few and far between. Mostly, there was only me.

Only is a painfully honest and entertaining story of an unconventional childhood. It reveals what it feels like to be an only child and the focal point of two people damaged by trauma and tragedy, and the courage it takes to break free from the past and the pull of its secrets.

Caroline Baum's poignant and gripping memoir is for anyone who has felt the pressure of being at the fulcrum of a seesaw, the focus of all eyes and expectations - torn between love and fear, obedience and rebellion, duty and the longing to escape. In exploring what being a Good Daughter means and why it can be so difficult, Only uncovers truths that offer readers deep emotional insight.

Caroline Baum is a respected journalist and presenter. She has worked for the BBC, ABC, Time Life Books, Vogue magazine (UK and Australia), was the founding editor of Good Reading magazine and the Editorial Director of Booktopia. She has been a judge of the Stella Prize, the Ned Kelly and Kibble Awards. She is in demand as a presenter at Writers Festivals across Australia and has interviewed many of the world's top international authors. Her writing has been published in major national publications and online media. She is currently researching a biography for a DCA in Creative Writing at University of Wollongong and is the recipient of the Hazel Rowley Fellowship 2015. She lives on the South Coast of NSW.
More like this