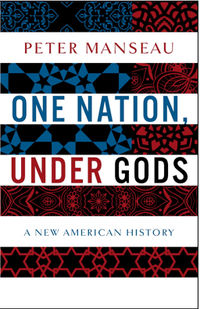 BACK
ONE NATION, UNDER GODS
A New American History
One Nation, Under Gods shows how much more there is to the history we tell ourselves, right back to the country's earliest days. Dazzling in its scope and sweep, it is an American history unlike any you've read.
Every American high school student learns about the "city on a hill," an iconic metaphor for how America was founded on distinctly Christian religious ideals. However, this understanding grossly overlooks the complex spiritual history of the United States, from its very origins. ONE NATION, UNDER GODS: A NEW AMERICAN HISTORY shows in penetrating detail how the nation was shaped by multiple religious traditions, a rich interplay of beliefs making up the fabric of American life.

Historian and journalist PETER MANSEAU opens with Christopher Columbus's voyage to the New World, itself a result of Spain's colonial ambitions in the wake of the Inquisition. He explores Columbus's muddled religious past and reveals that his translator—who was meant to aid him in converting the North American natives to Christianity—was in fact secretly practicing Judaism.

When, 500 years later, President Barack Obama acknowledges in his first inaugural address that America was historically shaped by people of all religions, cultures, and languages, Manseau argues that the most noteworthy aspect of his speech was that it was considered noteworthy. Shouldn't it be obvious? How had our country's multiethnic, religiously diverse founding been profoundly whitewashed as uniformly "Christian"?

Throughout ONE NATION, UNDER GODS, Manseau provides countless examples of how the country diverged from a standard, monotheistic Christian mantle. Covering five centuries of history and narrative, he reexamines familiar events through the lens of broader religious understanding. From Thomas Jefferson's defense of religious liberty to the Salem witch trials, and from the advent of atheism in America to the New Age principles of the Beat Generation, ONE NATION demonstrates again and again how our country was shaped by an incredibly wide spectrum of beliefs. In the process Manseau reframes the image of the "city upon a hill" and redefines it permanently.

PETER MANSEAU holds a doctorate in religion from Georgetown University and is currently a fellow at the Smithsonian, curating the museum's first exhibit on early American religious history. He is the author of Rag and Bone, Songs for the Butcher's Daughter, and Vows. Winner of prizes including the National Jewish Book Award, Manseau is also the unlikely son of a priest and a nun.
More like this