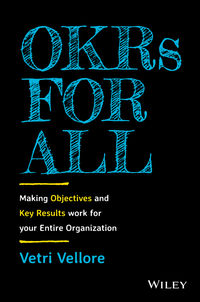 BACK
OKRs for All
Making Objectives and Key Results Work for your Entire Organization
OKRs, or "objectives and key results," are quickly gaining traction in many of the world's most well-known organizations. Businesses are using OKRs to solve their strategic execution problems and to help them realize their objectives faster and more reliably. However, some companies struggle to implement OKRs, finding that using them as top-down directives doesn't have an impact.
In OKRs for All: Making Objectives and Key Results Work Across Your Organization, strategic execution expert Vetri Vellore delivers a practical and actionable guide to using OKRs as more than a once-per-quarter, executive-level review instrument. You'll learn how to implement an OKR system that connects strategy with project execution, starting at the bottom of your company to help managers and teams base their everyday decisions on crucial shared goals.
In this book, you'll discover a seven-part blueprint and framework to help you put purpose at the center of the work of your CX professionals, team leads, and other contributors. You'll build an OKR strike team that aligns your departments, manages your people, and oversees the rollout of your new strategic OKR system. Finally, you'll find collections of best practices and common pitfalls that apply to companies of all shapes and sizes.
The author relies on his extensive experience working with clients including Slack, Microsoft, and McKinsey to show you valuable and accessible case studies you can use as guides to taking action within your own organization.
Perfect for founders, business owners, executives, managers, and other business leaders, OKRs for All is a must-read resource for anyone who wishes to create a more nimble and responsive organization.
More like this