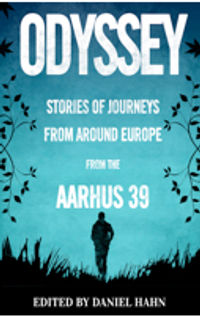 BACK
ODYSSEY
Stories of Journey from around Europe from the Aarhus 39
ODYSSEY is one of two anthologies that Alma Books and Hay Festival have launched, comprising original stories from the Aarhus 39, the result of an ambitious pan-European project with European Capital of Culture Aarhus 2017 showcasing 39 of the best children and YA writers aged 39 and under across Europe.
Odyssey, a volume of 21 stories aimed at young adults, offers a variety of takes on the theme of travelling – at times funny and playful, at others dramatic and poignant – covering a wide range of themes relevant to teenagers across Europe such as coming of age, sexuality, migration, identity and displacement. Whether you're after realism or escapism, tales about inner cities, sunny holidays or sci-fi adventures, this book will have something for you.

Authors: Finn-Ole Heinrich, Stefanie de Velasco, Annette Münch, Peder Frederik Jensen, Michaela Holzinger, Nina E. Grøntvedt, Endre Lund Eriksen, Elisabeth Steinkellner, Salla Simukka, Cathy Clement, Sandrine Kao, Inna Manahova, Laura Gallego García, Sarah Engell, Gideon Samson, Ana Pessoa, B.R. Collins, Sarah Crossan, Sanne Munk Jensen, Victor Dixen, Cornelia Travnicek.


Illustrators: Barroux, Britta Teckentrup, Dave McKean, Ella Okstad, Helen Stephens, Peter Bailey, Satoshi Kitamura, Anke Kuhl, Hanne Kvist, Isol, Joelle Jolivet, Jörg Mühle, Kitty Crowther, Mårdøn Smet, Ole Könnecke, Rotraut Susanne Berner, Sandrine Kao, Serge Bloch, Søren Jessen, Yvonne Kuschel.
More like this