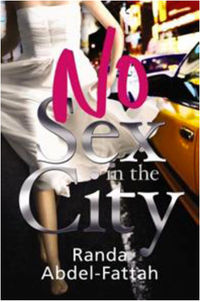 BACK
NO SEX IN THE CITY
A twist on traditional Western chick lit.
It is a truth universally acknowledged that a single man in possession of a student visa must be in want of an Australian wife.

Twenty-eight-year old Esma has a masters in human resource management, never orders just a salad, is well-travelled, has excellent taste in music, watches the ABC news, has the Guardian saved as an app on her iPhone, knows all the two-letter words in Scrabble and can tell the difference between a Ford and a Holden. Armed with a check-list, she's on the hunt for Mr Right, who must be a Muslim.
Tired of failed matchmaking, online dating sites and people calling her 'old fashioned', Esma forms a 'No Sex in the City' club with her friends Lisa, Ruby and Nirvana.
Esma's quest for The One was never going to be easy but when family, friends and meddling employers are thrown into the equation, her path to true love suddenly takes a great big detour.

No Sex in the City, was part of the Get Reading, 50 Books You Can't Put Down campaign in Australia in 2012.

Randa Abdel-Fattah knew she wanted to be a writer when, aged ten, she wrote her first book: a complete rip-off of Roald Dahl's Matilda. Since stealing ideas from Roald Dahl, she's found her own voice and has written eight books for young adults and children which have sold into over 20 languages: Does My Head Look Big in This?, Ten Things I Hate About Me, Where the Streets Had A Name, Noah's Law, Buzz Off, The Friendship Matchmaker, The Friendship Matchmaker Goes Undercover and her first adult novel, No Sex in the City. Randa has been a lawyer, is a human rights activist. She is honoured to have been included in the list of the '1000 Most Important Women of the Middle East and the Arab World' by Maximilien De Lafayette, for her writing. She lives in Sydney with her husband and two children.

Weblink:
www.randaabdelfattah.com


More like this