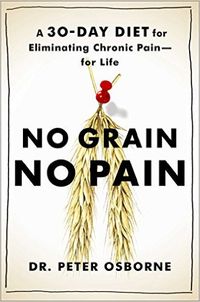 BACK
NO GRAIN NO PAIN
A 30-Day Diet for Eliminating the Root Cause of Chronic Pain
In the tradition of Wheat Belly and Grain Brain; No Grain, No Pain demonstrates the proven link between a gluten-heavy diet and chronic pain and discomfort—and offers a groundbreaking, 28-day, grain-free diet plan to help you heal yourself from the inside out.
More than 100 million Americans suffer from chronic pain according to an Institute of Medicine report released in 2011. For many, chronic pain is part of an autoimmune disease, but all too often doctors turn to the same solution: painkilling drugs.

But all of this medication simply isn't helping, and as Dr. Peter Osborne, the leading authority on gluten sensitivity and food allergies has found, the real solution often lies in what you eat. In No Grain, No Pain, Dr. Osborne shows how grains wreak havoc on the body by causing tissue inflammation, creating vitamin and/or mineral deficiencies, and triggering an autoimmune response that causes the body to attack itself. But he also offers practical steps to find relief. Using his drug-free, easy-to-implement plan, you will be able to eliminate all sources of gluten and gluten-like substances, experience significant improvement in fifteen days, and eliminate pain within thirty days.

No Grain, No Pain is the first book to identify diet—specifically, grain—as a leading cause of chronic suffering, and provides you with the knowledge you need to improve your health. Based on extensive research and examples culled from thousands of his satisfied patients, Dr. Osborne recommends changing your diet to achieve the relief that millions of Americans have been seeking once and for all, leading to a healthier, happier life.

Dr. Peter Osborne is the clinical director of Town Center Wellness in Sugar Land, Texas. He is a doctor of chiropractic medicine and a Board Certified Clinical Nutritionist focused on the holistic natural treatment of chronic degenerative diseases with a primary focus on gluten sensitivity and food allergies, and has helped thousands of patients recover from "mysterious medical illnesses." Dr. Osborne received his doctorate from Texas Chiropractic College and lectures nationally to doctors on gluten sensitivity/intolerance, celiac disease, and many other nutritionally related topics. He is the cofounder of Nutra-MD and the Gluten Free Society. He is the author of Glutenology, a series of digital videos and ebooks designed to help educate the world about gluten.

Weblink:
GlutenFreeSociety.org


More like this