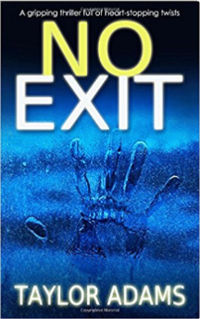 BACK
NO EXIT
A KIDNAPPED LITTLE GIRL LOCKED IN A STRANGER'S VAN. NO HELP FOR MILES. WHAT WOULD YOU DO?
Darby Thorne is a college student stranded by a blizzard at a highway rest stop in the middle of nowhere. She's on the way home to see her sick mother. She'll have to spend the night in the rest stop with four complete strangers. Then she stumbles across a little girl locked inside one of their parked cars.

There is no cell phone reception, no telephone, no way out because of the snow, and she doesn't know which one of the other travelers is the kidnapper.

Full of shocking twists and turns, this beautifully written novel will have you on the edge of your seat.

Taylor Adams directed the acclaimed short film And I Feel Fine in 2008 and graduated from Eastern Washington University with the prestigious Edmund G. Yarwood Award. His directorial work has screened at the Seattle True Independent Film Festival and his writing has been featured on KAYU-TV's Fox Life blog. Taylor lives in Washington state and has written three novels, published by Joffe Books, a fourth is under option.
More like this