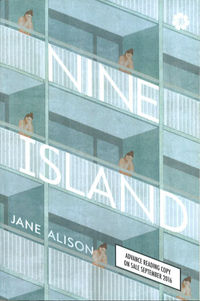 BACK
NINE ISLAND
An intimate autobiographical novel, told by J, a woman who lives in a glass tower on one of Miami Beach's lush Venetian Islands puzzling out the problems of loneliness and erotic love as she translates Ovid's stories of sex.
After decades of disaster with men, she is trying to decide whether to withdraw forever from romantic love. Having just returned to Miami from a monthlong reunion with an old flame, Sir Gold, and a visit to her fragile mother, J begins translating Ovid's magical stories about the transformations caused by Eros. "A woman who wants, a man who wants nothing. These two have stalked the world for thousands of years, she thinks. When not ruminating over her sexual past and current fantasies, in the company of only her aging cat, J observes the comic, sometimes steamy goings-on among her faded-glamour condo neighbors. One of them, a caring nurse, befriends her, eventually offering the opinion that "if you retire from love . . . then you retire from life."
A central narrative about her sexual past and present, as well as the comic goings-on in her faded-glamour condo, is broken by brief ruminations on the origins of erotic love and modern re-imaginings of Ovid. The tone is wry, and Miami Beach—especially the Venetian Islands—with all of its steamy silliness and impossibly beautiful flora and fauna, plays a big role. It is in this lush backdrop that our heroine ponders her retirement from love, even as she is befriended by a woman in the building who is making far more grave decisions.

The author has published three previous novels (with FSG and Harcourt) including THE LOVE-ARTIST; a memoir (HMH) called THE SISTERS ANTIPODES; and, most recently, CHANGE ME, translations of Ovid (Oxford). She directs the creative writing program at UVA.

Weblink:
www.janealison.com


More like this