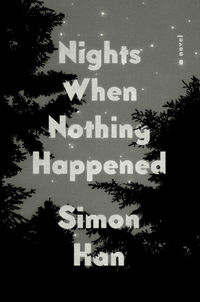 BACK
NIGHTS WHEN NOTHING HAPPENED
This is a novel about the Chengs, a Chinese American family living in a Texas suburb, the former "heroin capital of the United States."
The family's two children disappear one night, setting off a string of events that ultimately cast suspicion on their father, a man haunted by night terrors and childhood violence. After brother and sister return under mysterious circumstances, the family begins to unravel and Child Protective Services gets involved. Set during the early days of the Iraq War and school shooting drills, the Chengs begin to fear not only the world outside but one another. Everything I Never Told You meets a realist Dracula.

Simon Han's stories and essays have appeared in The Atlantic, The Iowa Review, Guernica, and Electric Literature. He is the winner of the Indiana Review Fiction Prize and the Texas Observer Short Story Contest. A graduate of Vanderbilt University's MFA program, he is a current writer fellow with the Tulsa Artist Fellowship. Among his supporters are: Lorrie Moore, Lan Samantha Chang, Rick Moody, Laura van den Berg, Claire Vaye Watkins, Bryn Chancellor, Jennifer Tseng and Kevin Young.
More like this