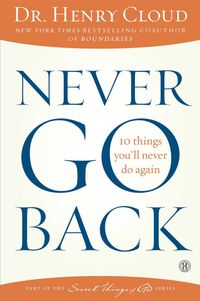 BACK
NEVER GO BACK
10 Things You'll Never Do Again
In this life-changing book, you'll learn ten pathways of success that will help you redirect your mistakes and make way for success—physically, personally, and spiritually.
Everyone makes mistakes, big and small. Sometimes our mistakes take us down the wrong path and send us spiraling into destructive life patterns, and sometimes we learn a lesson and never make the same mistake again. But how? How do we recognize our destructive patterns, make new choices, and then follow through?

In Never Go Back, bestselling author Dr. Henry Cloud shares ten doorways to success—and once we walk through these new pathways, we never go back again. His proven method—based on grace, not guilt—outlines ten common life patterns that sabotage success and lays out clear, concrete steps you can take to overcome them. You'll see your relationships flourish, your personal life enhanced, and your faith strengthened. Dr. Cloud's powerful message reveals doorways to understanding—once you enter them, you will get from where you were to where you want to be.

With a winning combination of eternal principles, spiritual wisdom, and modern scientific data, Never Go Back will put your heart in the right place with yourself and with God.

Dr. Henry Cloud has written or cowritten more than twenty books, including the bestselling Boundaries series. His books have sold more than five million copies. Dr. Cloud has appeared on numerous radio and TV broadcasts, including ABC News, PBS, and FOX News, and has been featured or reviewed in the Los Angeles Times, The New York Times, The Boston Globe, and others. He is a frequent speaker on such topics as leadership, relationships, and personal growth both nationally and internationally. Dr. Cloud is an avid golfer and enjoys boating, deep-sea fishing, and scuba diving, and he lives in Los Angeles with his wife and two daughters.

Weblink:
http://catalog.simonandschuster.com/TitleDetails/TitleDetails.aspx?cid=2741&isbn=9781439180549


More like this