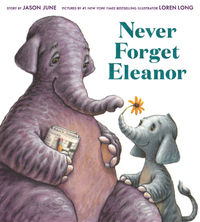 BACK
NEVER FROGET ELEANOR
From Jason June and #1 New York Times bestselling illustrator, Loren Long, comes a heartfelt picture book about a young elephant named Elijah who loves the stories his grandma Eleanor tells him.
Jason June is a children's book author who loves words and stories and making memories we can hold in our heart. JJ lives in Austin, TX. Visit Jason June online at heyjasonjune.com.

Loren Long is the author and illustrator of the NYT bestselling Otis series. He's also the illustrator of the #1 New York
Times bestsellers Change Sings by Amanda Gordon, Of Thee I Sing by Barack Obama, and Love by Matt de la Pena. Visit him online at LorenLong.com.
More like this