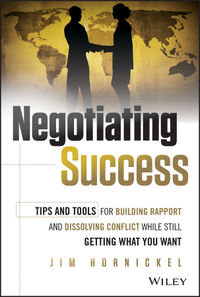 BACK
Negotiating Success
Tips and Tools for Building Rapport and Dissolving Conflict While Still Getting What You Want
People around the world have been taught for too long that every win requires a loser. Yet, successful negotiations are built on the goal of having both sides win, yielding lasting positive outcomes for both parties. Even in a world that values competition so strongly, when you go for win-win, you put yourself at the leading edge of positive and lasting change.
Negotiating Success provides expert guidance on how to improve strategies and outcomes in negotiating anything in your professional and personal life. With a constant focus on the mind, body, and spirit of the professional negotiator, this easy-to-read guide brings a holistic approach to the hard and soft skills needed for ethical negotiations. The result is a better understanding of how to negotiate successfully for the mutual benefit of all parties.
Negotiating Success offers proven advice you'll turn to again and again for minimizing conflict and maximizing positive results for everyone at the table. You'll learn how to:
Use positive psychology to unite the parties
Expand your emotional intelligence through self-awareness, self-management, social awareness, and managing relationships
Understand the four primary negotiating styles and how to work with them
Aim for mutuality, where both parties get as much of what they want as possible
Find creative approaches for achieving mutual routes to satisfaction
Practice the art of R.E.S.P.E.C.T.
Integrate the six principles of ethical influence
Expose and dispose of tactics in negotiations
It's time to start your journey toward enlightened mutuality-based negotiating. You can lead the way to more positive, peaceful negotiating with this unparalleled blend of practical and explicit steps for achieving win-win negotiations, every time.
More like this