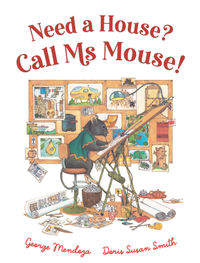 BACK
NEED A HOUSE? CALL MS MOUSE!
A charming and popular children's classic about an industrious architect mouse, brought to life for a new generation.
Meet Henrietta. Also known as Ms Mouse.
Henrietta is a world-famous decorator, which means she is: an artist, a designer, a dreamer, a builder, a creator - all that and more too.

All animals want to live in a house designed by Henrietta, because she is the only mouse in the world who understands exactly what makes a squirrel or a rabbit, a caterpillar or a frog feel at home. This love song to creativity will awaken a passion for architecture in young readers.

Poet, novelist, and TV and children's book writer George Mendoza established himself as a top author of his day, publishing over 100 books for children and adults worldwide. In 1968, he was awarded the Lewis Carroll Shelf Award for his novel The Hunter I Might Have Been.
More like this