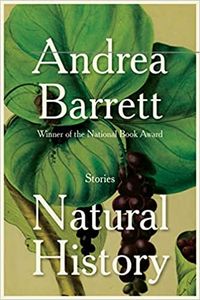 BACK
NATURAL HISTORY
A masterful new collection of interconnected stories, from the National Book Award-winning author.
In NATURAL HISTORY, Andrea Barrett completes and connects the lives of the family of scientists, teachers, and innovators she has been weaving throughout her books since her National Book Award-winning collection SHIP FEVER was published 25 years ago. The six exquisite stories in NATURAL HISTORY (including the unforgettable capstone, the novella-length title story) are set largely in a small community in central New York state and portray some of her most beloved characters.
Told with Barrett's characteristic elegance, passion for science, and wonderful eye for the natural world, these psychologically astute and moving stories evoke the ways women's lives and expectationsin families, in work, and in lovehave shifted across a century and more. Throughout, Barrett's great theme comes shining through: how the smallest events of the past can have large reverberations across the generations, and how potent, wondrous, and strange the relationship between history and memory can be.

Andrea Barrett is the author of nine previous works of fiction, including the National Book Awardwinning Ship Fever and Pulitzer Prize finalist Servants of the Map. She is the recipient of a MacArthur Fellowship, a Guggenheim Fellowship, and an NEA Fellowship, as well as a finalist for the Story Prize and a recipient of the Rea Award for the Short Story. Having lived in Rochester, New York, and western Massachusetts, Barrett now resides in the Adirondacks.

Weblink:
andrea-barrett.com


More like this