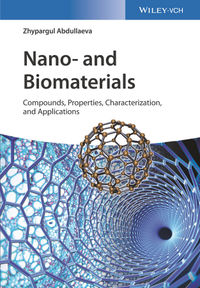 BACK
Nano- and Biomaterials
Compounds, Properties, Characterization, and Applications
A comprehensive introduction to nano- and biomaterials shining light on the different research disciplines from various perspectives.
The straightforward and well-structured concept is designed to cater for entrants as well as experienced researchers in the field of nanotechnology. The initial chapters introduce nanomaterials, their classification and synthesis techniques, while subsequent chapters discuss the various characterization tools as well as mechanical properties and their applications in biotechnological and biomedical fields. Further understanding of the topic is supported by case studies used for practical purposes. The book concludes with a look at future technology advances.
With its explanation of a wide variety of materials, this is an essential reference for chemists, physicists, materials scientists and biomedical engineers.
More like this