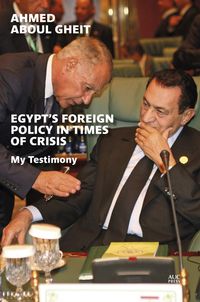 BACK
My Testimony..
Egypt's Foreign Policy in Times of Crisis
An Egyptian foreign minister's fascinating account of his time in office during the final years of the Mubarak era
Ahmed Aboul Gheit served as Egypt's minister of foreign affairs under President Hosni Mubarak from 2004 until 2011. In this compelling memoir, he takes us inside the momentous years of his time in office, revealing the complexities and challenges of foreign-policy decision-making and the intricacies of interpersonal relations at the highest levels of international diplomacy.
Readable, discerning, often candid, Egypt's Foreign Policy in Times of Crisis details Aboul Gheit's working relationship with the Egyptian president and his encounters with both his own colleagues and politicians on the world stage, providing rich behind-the-scenes insight into the machinery of government and the interplay of power and personality within. He paints a vivid picture of Egyptian–U.S. relations during the challenging years that followed September 11 and the 2003 U.S. invasion of Iraq, as we navigate the bumpy terrain of negotiations, discussions, and private meetings with the likes of Colin Powell, Condoleezza Rice, Dick Cheney, and Hillary Clinton. Successive attempts by Egypt to revive Palestinian–Israeli negotiations, U.S. assistance to Egypt, and the issue of NGO funding get full play in his account, as do other matters of paramount concern, not least Egypt's strenuous attempts to reach an agreement with fellow riparian states over the sharing of the Nile waters; Sudan, Libya, and Cairo's engagement with the wider African continent; the often tense negotiations surrounding UN Security Council reform; and relations with Iran and the Gulf states.
More than a memoir, this book by a senior statesman and veteran of Egypt's foreign affairs is a tour de force of Middle Eastern politics and international relations in the first decade of the twenty-first century and an account of the powers and practice of one of Egypt's most stable and durable institutions of state.
More like this