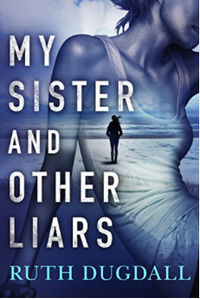 BACK
MY SISTER AND OTHER LIARS
GIRL, INTERRUPTED meets WE WERE LIARS in this domestic noir crime stand alone novel, told from the unusual perspective of a teenage anorexic, where layers are pulled away until the family home is revealed as the most dangerous place of all.
Sam is 17, starving herself and longing for oblivion; Jena is 30, left brain-damaged and desperate to remember. This is the story of two sisters and the secrets and lies at the heart of their world.

Piecing Jena's fragmented words together, sneaking looks into police evidence, Sam resolves to find her sister's attacker. At any cost.
A chocolate box full of old photos forces her to speak and to remember. But this journey of discovery also means a loss of innocence for Sam, with devastating consequences.

It is New Year's Eve and Samantha Hoollihan is dying. She lives on a hospital ward and is in the advanced stages of anorexia, like her fellow sufferers, she thinks of `Ana Unit` as her best friend. She just wants to forget and disappear. But oblivion is not what Clive, the hospital director, has in mind. He has decided on an unusual form of therapy: Sam must talk for a set time, or she will be force-fed through a naso-gastric tube. It is a brutal tactic, and also Sam's last chance for survival. If only she wanted that.

But something changes. Sam's mother dies and her personal effects are brought to the hospital, including a chocolate box full of photos. Clive gives Sam the box, and asks her to talk about a photo, any photo for 15 minutes. Or be force-fed. She has to choose. As Sam gazes at the images and memories come flooding in, she finally begins to talk about the day everything changed; her sixteenth birthday. On that day, eighteen months ago, Sam's beautiful sister Jena was attacked and left brain damaged. The police had no leads and the case was cold. Jena's broken brain meant she was unable to say who had attacked her, though is her memory really as unreliable and fragmented as it seems?

The novel is told through two timelines: the first at Bartlet hospital, now. Sam, in the final stages of anorexia, begins controversial therapy in a final bid to save her life. The second, on a council estate in Ipswich, 18 months before. Sam becomes an amateur detective, and enters a dangerous world, where everything she thinks she knows turns out to be a lie.

Ruth Dugdall has been described by critics as `the British Gillian Flynn` (review). She has been compared to Jodi Picoult (by the CWA panel who awarded her the Debut Dagger) and is interested in deviance. Her writing is uncompromising and can be graphic, but is always authentic. Ruth admires the writings of Joyce Carol Oates and Donna Tartt, and in a similar way, tackles human relationships at their most dysfunctional. Raised in Ipswich, Ruth studied English Literature and, driven by a sense of social injustice, which also infuses her novels, completed an MA in Social Work at the University of East Anglia. She worked as a probation officer for ten years in Suffolk, including a 2 year secondment to a high category prison housing teenage murderers. Ruth has lived in Luxembourg for 2 years and has acquainted herself with the underbelly of the city. Nowhere Girl, published by Legend Press in November 2015, is set there and looks at human trafficking alongside the central story of a kidnapped teenager. The novel inspired the British Embassy to produce a Child Protection policy document. Ruth is the author of 4 novels published by Legend Press and translated in several languages. The Woman Before Me (2010), won the CWA Debut Dagger and the Luke Bitmead Bursary; it is the story of a female stalker who murders a child, and explores the consequences of obsessive love. This is the first novel to feature probation officer Cate Austin (The Sacrificial Man, 2011, also featured on Woman's Hour, when Ruth was interviewed by Jenny Murray; Humber Boy B, 2015).
More like this