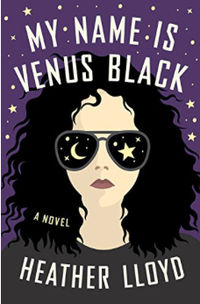 BACK
MY NAME IS VENUS BLACK
MY NAME IS VENUS BLACK, a harrowing novel about a young woman, recently released from juvenile detention after murdering her step-father, searching for her kidnapped younger brother who is developmentally challenged.
At age 18, Venus Black is released into the world after serving five years in a juvenile detention center.

Formerly a straight-laced, straight-A student, she had committed a terrible crime that shocked her town and her family. Reintroduced into the world, Venus assumes a new identity in the hope of escaping the pain of her past, the mother that disappointed her, and her criminal reputation.

Most importantly, she pledges to find her beloved, mentally-disabled younger brother, Leo, who was kidnapped while she was gone. Venus' journey, and the various wonderfully imperfect characters she meets, all lead her re-define her notion of family.

A newcomer to fiction, Heather L. Lloyd crafts a constellation of captivating, fresh voices in this stirring and redemptive novel that forces us to question our definitions of right and wrong, the difficulties in starting over, and whether or not it's possible to forgive the family we're born with and live with the family we choose to be our own.

Heather L. Lloyd spent many years working as a freelance editor and book doctor. After raising her children on the West Coast, she and her husband recently moved to New York City where she is at work on a new novel. This novel is based in part on events in Heather's own life.
More like this